High court orders retrial of ex-nurse's aide convicted of 2003 murder

December 20, 2017 (Mainichi Japan)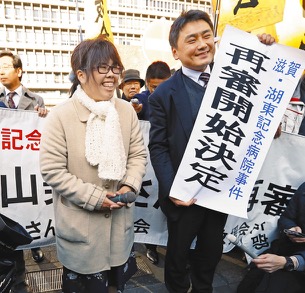 Mika Nishiyama, left, is seen smiling before a group of her supporters following the Osaka High Court's decision to open a retrial, in Osaka's Kita Ward on Dec. 20, 2017. (Mainichi)

OSAKA (Kyodo) -- The Osaka High Court on Wednesday ordered a retrial for a former nurse's aide who has completed her prison term for murdering a male patient in 2003 by removing his respirator at a hospital in Shiga Prefecture, western Japan.

Mika Nishiyama, 37, was found guilty of causing the 72-year-old male patient's death by inducing hypoxia and her conviction was finalized in 2007, but the high court ruled there was uncertainty over the cause of death.

Presiding Judge Mariko Goto said there was a possibility that the man had died of arrhythmia based on a postmortem examination.
The lower court decision in September 2015 dismissed Nishiyama's plea for a retrial, which was based on a medical expert's opinion that the patient may have died of arrhythmia.
"I didn't think the court would order a retrial and I'm glad the judge accepted (my plea)," Nishiyama, who served out her 12-year prison term last August, said in a news conference.

The focal point of the trial was the credibility of Nishiyama's confession. She initially admitted to murdering the man during voluntary questioning but later pleaded not guilty in court proceedings, claiming that interrogators induced her to make a false confession.

In 2005, the Otsu District Court determined her confession was credible and sentenced Nishiyama to 12 years in prison. The high court and the Supreme Court later upheld the ruling.

Nishiyama's initial application for a retrial, filed in 2010, was rejected by the district court, the high court and the top court. Her subsequent application, submitted in 2012, was dismissed by the Otsu District Court, which said there was "no reasonable doubt regarding the credibility of the confession."

Copyright THE MAINICHI NEWSPAPERS. All rights reserved.


~~~~~~~~~~~~
Woman who served 12 years for murder granted retrial
THE ASAHI SHIMBUN
December 21, 2017


Mika Nishiyama, foreground, talks in a news conference in Osaka on Dec. 20 along with her parents after the Osaka High Court decided to grant a retrial. (Shinnosuke Ito)

OSAKA--A former assistant nurse who says she was wrongfully convicted of murdering a hospital patient and spent 12 years in prison for the crime has been granted a retrial.

The Osaka High Court ruled Dec. 20 that "reasonable doubts remain" as to whether Mika Nishiyama, now 37, is the culprit.
In granting a retrial, the court said the 72-year-old male inpatient may have died naturally and that Nishiyama could have come under duress from police investigators and prosecutors to confess to a crime she did not commit.

The case dates to an inpatient's death in May 2003 at Koto Memorial Hospital in Higashi-Omi, Shiga Prefecture, where Nishiyama worked as an assistant nurse.

In the ruling, Presiding Judge Mariko Goto noted that Nishiyama may have confessed "to pander to police investigators and prosecutors because they induced her to do so."

The ruling nullified the Otsu District Court's earlier decision to refuse Nishiyama's request for a retrial.

Nishiyama told reporters after the high court's decision that she hoped prosecutors would not appeal to the Supreme Court.
"But I think that they will do so," she said. "I will also continue to fight (to prove my innocence) from now on."
Nishiyama admitted she was surprised by the Osaka High Court ruling "as I had not thought that I would be granted a retrial."

She said the ruling "meant I was able to give my parents good news."

The Osaka High Public Prosecutors Office will decide within five days whether to appeal to the Supreme Court.

Yasuhiro Tanabe, a high-ranking prosecutor of the office, said, "It is regrettable that the prosecutors' assertion was not accepted. We will fully examine the contents of the (high court's) decision and deal with this case appropriately."

Shiga prefectural police initially suspected the inpatient's artificial respirator had come off naturally, setting off an alarm, but that Nishiyama and two nurses on duty at the time did not notice the alarm, and the man died as a result of their negligence.

Submitting to voluntary police questioning in July 2004, Nishiyama said, "I removed the artificial respirator."
Police took it as a murder confession, which became the pillar of the prosecution's case against her.

Despite the confession, Nishiyama pleaded innocent in her trial, but was found guilty. Her sentence of 12 years' imprisonment was finalized at the Supreme Court in May 2007.

She was released from prison in August this year after completing her term.

The disputed points in whether to grant Nishiyama a retrial were the inpatient's cause of death and the reliability of her confession. The final ruling in the original case had said that the cause of death was acute cardiac arrest caused by the suspension of oxygen supply, and that the confession was trustworthy.

However, the latest ruling accepted the possibility that the patient died naturally due to fatal arrhythmia. The doubt was cast by data taken from analysis of his blood taken during an internal examination after the man died.

After being released from prison, Nishiyama took part in a gathering of supporters held in her hometown of Hikone, Shiga Prefecture, in late October.

She told the 120-strong crowd at the time, "I will do my best until the end without giving up."

She also told them: "I was pleased to be released from the prison. But it was painful that I had to spend my 20s, the most important period of my life, in prison."

Later, she told The Asahi Shimbun that she felt she came to develop rapport with a police investigator while being questioned by him, leading her to tell him, "I committed the murder."

"I regret those things the most," she said in the interview conducted after her release.

Nishiyama is now living with her 75-year-old father and 67-year-old mother, and wants to find a job as a nursing-care worker.
"From now on, I want to devote myself to my parents. I also want to help people in weak positions as much as possible," she said.

〜〜〜〜〜〜〜〜〜〜

湖東記念病院人工呼吸器事件

国民救援会の支援事件

湖東記念病院人工呼吸器事件  


事件の概要  

★事故の捜査が殺人事件に、「自白調書」の創作で

 植物状態になっている入院患者の人工呼吸器のチューブを引き抜いて殺害したとして、看護助士の西山美香さんが殺人罪に問われ、懲役12年の刑が確定した事件。事件は取調室で自白を強要されたものだとして、西山さんは和歌山刑務所から再審を求めています。事件の概略を紹介します。

 2003年5月22日午前4時30分頃、愛(え)知(ち)郡湖(こ)東(とう)町(ちょう)(現東近江市)の湖東記念病院の病室で入院患者Aさん(72歳、人工呼吸器なしでは生命維持ができない重篤患者)が心肺停止状態になっているのが発見されました。

 発見したのは、おむつ交換にまわってきた看護師のBさんと、看護助士の西山美香さん(当時23歳)でした。

 Aさんは救命処置が施され一時心拍が回復しましたが、7時31分に死亡が確認されました。

★叱(しっ)責(せき)されると供述が変わる

 滋賀県警愛(え)知(ち)川(がわ)署は当初、人工呼吸器が外れたのに気づかず死亡させたとして、業務上過失致死容疑で捜査をしました。B看護師、西山さんなど病院関係者は、人工呼吸器のアラームは鳴っていなかった、不具合による事故と主張しました。捜査は進展せず1年ほどが経過しました。

 任意の取調べで担当が山本誠警察官になると、西山さんらにアラームが鳴っていたことを認めるよう強く迫るようになりました。西山さんが「鳴っていた」と供述を変えると山本警察官は急にやさしくなり、男性との交際経験のなかった西山さんは好意を寄せるようになりました。

 しかし、B看護師の恨みを買って悩むことになり、再び「本当は鳴っていなかった」と言うと、山本警察官に厳しく叱責されて、供述を変えるといった繰り返しがつづき、「自分がチューブを引き抜いて殺した」と供述。その後も否認をしたり、犯罪行為の供述が次々変遷(せん)するなか殺人容疑で逮捕されました。

 西山さんは接見した弁護士に無実を訴えましたが、警察官の取調べでは犯行を「自白」。警察官に言われるがままの自白調書が創作されました。その自白調書を検察官が仕上げて西山さんは殺人罪で起訴されました。

 検察官は、「処遇等への憤(ふん)まんを募らせ、気持ちを晴らすため入院患者を殺そうと企て、入院加療中のAに対し、殺意をもって、人工呼吸器のチューブを引き抜いて、呼吸器からの酸素供給を遮断し、呼吸停止状態に陥らせ、急性低酸素状態により死亡させた」と主張し、西山さんの「自白調書」などを証拠として提出しました。

 西山さんは第2回公判から犯行を否認。「自白」は好意をもった警察官に迎合し、誘導されるままにしたものであると主張しました。

 弁護側は、「自白」は脅迫や誘導によるもので信用できない。供述の変遷の著しさ、実行行為の不自然さ、動機もつじつまが合わず、西山さんは無実だと主張しました。

★「自白」にある多くの矛盾点

 西山さんと犯罪をむすびつける証拠は西山さんの「自白」以外にありません。

 証拠とされた自白調書では、看護師詰所の廊下を挟んだドアの開いたままの隣室(4人の患者がいる)に入り、「Aさんに装着してある人工呼吸器を引き抜き、60秒経つとアラームが鳴るので、1、2、3と秒を数え、60秒直前に消音ボタンを押し、これを3回繰り返し(3分間)死ぬのを見ていた。口をハグハグさせ顔を歪め苦しそうに死んでいった」旨述べています。

 一審の大津地裁は、この「自白」を「実際その場にいた者しか語れない迫真性に富んでいる」と全面的に信用し、解剖をした医師の「急性低酸素状態に陥ったことによる急性心停止」との鑑定、証言と矛盾しないなどと認定。懲役12年の判決を言い渡し、最高裁で確定しました。

  「自白」には多くの疑問や矛盾点があり、その後の第1次再審請求、第2次再審請求で弁護団が提出した新証拠では、「自白」が客観的、科学的な鑑定結果にも反する虚(きょ)偽(ぎ)の疑いが一層濃厚になりました。

 その主なものは、次の点です。


★服役しながら無実を訴える
 今、第2次再審請求審を申し立て。大津地裁は
15
年
9
月に不当決定、現在、大阪高裁に係属中。
 西山さんは、和歌山刑務所に服役しながら、一日も早い再審開始と無罪判決の日が来ることを願っています。
守る会の連絡先/署名等